Nicks Chips is a Detroit based brand. We offer our customers great service and flavorsome snacks that keep them coming back for more. With Nicks Hot Corn Chips leading the way, we have expanded to more than twenty great tasting snacks.
From our potato chips to our corn product we guarantee you will be satisfied. Our product is made with the finest ingredients and continues to be perfected with the help of our customers.
Since 2010, Nick's Chips has delivered and distributed quality snacks to hundreds of thousands happy customers and businesses throughout the Metro-Detroit area. The company's roots stem from a generational history in the convenience store snack industry.
Our mission is to continue to supply high quality Nicks snack brand line to both independent and chain convenience stores, gas stations and larger supermarkets in the Detroit, Atlanta, Minnesota markets – and demand continues to grow at a rapid pace by offering exciting and competitive products.
The Nick's brand speaks to more than snack consumers.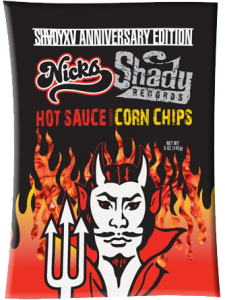 In 2011, Nick's Chips evolved into a lifestyle. Through several community initiatives based in Detroit, the edgy snack brand caught the attention of musicians, artists, athletes and area leaders. Most recently, Shady Record's Marshall Mathers "Eminem" joined forces with the distribution power embedded into the Nick's name to launch the official SHADY XV Anniversary snack product – "Nick's Hot Corn Chips" – a best seller in Detroit. This co-branding effort resulted in a home town grassroots campaign on social media driving chip sales while promoting Eminem's most recent album right here in Detroit.
In 2014, Nick's Chips sponsored and promoted emerging talent such as Detroit-based musician Pato Margetic and Tony Erikson. The "Wrap it Up" Contest engaged the local markets touching over 10,000 young followers and most recently Nick's was an official sponsor of the Detroit Rap Awards.
Join the ``Nicks Chips`` Club!