Playlist with id 0 does not exist!Playlist with id 0 does not exist!THE NICK'S STORY
Since 2010, Nick's Chips has delivered and tributed quality snacks to hundreds of thousands happy customers and businesses throughout the Metro-Detroit area. The company's roots stem from a generational history in the convenience store snack industry.
The mission is to continue to supply high quality Nick's snacks to both independen and chain convenience stores, gas stations, and larger supermarkets in the Detroit, Atlanta, and Minnesota markets. As the demand for the brand continues to grow at a rapid pace, Nick's Snacks strives to provide exciting and competitive products.
DON'T MISS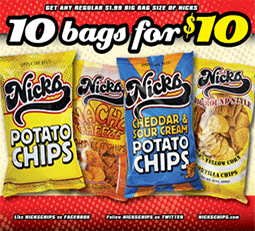 the Nick's lifestyle
The Nick's brand speaks to more than just hungry snack consumers. In 2011, Nick's Chips translated itself into a lifestyle, a culture – or as we call it "a vibe". Through several community initiatives based in Detroit, the edgy snack brand caught the attention of musicians, artists, athletes and area leaders.

SHOP & SHIP
New – $5 flat rate shipping per case.
Order Now
INSTAGRAM




NICK'S NEWSLETTER
Sign up to be informed of special offers and announcements

Email *